Monitas, Inc.
We, Monitas, have built online panel services in Japan and our global operation provides them to overseas market research companies.
OUR SERVICE
Monitor track record
Panel Size

10,200,000
(at the date of September 2019)
Monetization track record
We have continued to expand number of projects from domestic companies including overseas.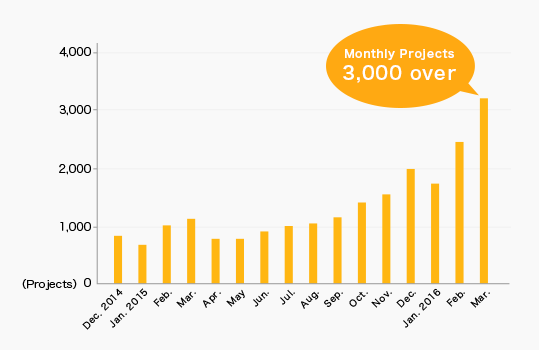 Panel information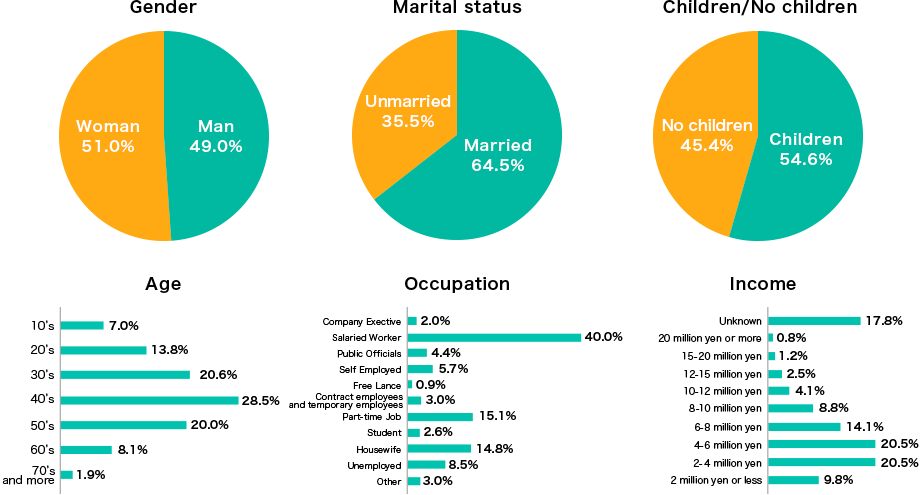 Monitas pre-registration items
We can extract demographics from our panels (This is a partial list. Please contact us if you need to know other pre-registration items)
Railroad lines
Train lines of nearest station_The metropolitan area (Tokyo and other three prefectures)
Train lines of station_Kansai region (Osaka and other five prefectures)
BtoB
Industry
Profession
Employment status
Company size / number of employees
Company's revenue
Involvement level at procurement / recruiting
Sufferer
Your past disease / disorder
Automobile・Bike (at home)
Presence of regular car license
Your car manufacturer / brand
Car models
Involvement level at car purchase
Your bike manufacturer
Residential house
House form
Age of the house
Housing equipment
Past renovation / extension and remodeling
Parts you remodeled
Household population
Household formation
Provide as panel
About Monitas MONITOR demand
Monitas MONITOR demand only provides panels and uses surveys created by clients.
If you need us to create surveys, please see here.
We can handle survey types below.
Internet research
Recruiting service
Quality control
High-quality panel structuring, operation and management.
We build up a balanced panel attribution, excluding black list criteria and maintenance.

Who is on our black list?
We strictly exclude monitors below:
Non-existent names(symbols, "aaa" and etc.), addresses
Duplicate or unreal registrations
Inconsistant or dishonest respondents
Unreachable email addresses
Other reasons that MONITAS evaluates as black list criteria
1. Recruitment and Management
We have mainly worked with multiple Web services and construct a panel that it is based on the population structure so that there is no bias in the attributes or characteristics of panelists.

2. How to Manage
Operable Projects

We don't handle any project which is for sales promotion nor sample any survey which contrary to ethics and morality.

Quality of Panel

We have managed our panel through the following ways:

Excluding fraud respondents from a study which has set traps on. [twice a year]
Confirming our panelists who don't respond any surveys for six months. [monthly]
Monitoring panelists' answer constantly on our projects [at anytime]
180 days, the monitor confirmed no questionnaire [at anytime]

Update of registration information

Our panelists can always update their own registered information.

Incentives

We always give incentives to our panel through any survey.
We set the amount of incentives based on length of survey.
Our panelists can exchange their incentives to cash by bank transfer, gift certificates, or points on another Web services.
3. Aggressive Disclosure of Our Panel-related Information
We have published the panel basic information on the corporate site once a month.
4. Personal Information and Privacy Protection
We collect Personal Information of many consumers on a daily basis and take it for granted that we properly collect, use, manage the information. We adhere to ESOMAR's "International Code of Marketing and Social Research Practice" and the Japan Market Research Association's "Marketing Research Principles" with regard to the protection and security of private information. Please refer to the Personal Information Protection Act for more details.
ABOUT US
Company Name

Monitas, Inc.

Location

【Head Office】
Taikoen Bldg. 1-3-8 Shiba-koen, Minato-ku, Tokyo, 105-0011 JAPAN Access map
TEL: +81-3-5776-2821 
FAX: +81-3-5776-2822

【North American sales office】
2821 Chelsea Dr, Oakland, CA 94611, U.S.A.

Establishment

April 1991

Capital

71,960,000 yen

Officers

Exective Chaieman

Takaharu Hirose

President & CEO

Hidenori Hayashi

Director Division

Jun Kodaira

Outside Deirector

Ichiro Kawanabe

Auditor

Eiji Watanabe

Numeber of Employees

20 (Of July 2016)

Business Content

MONITOR Alliance operation

Business model construction support by survey content
Provide panels to Japanese company

Global operation

Provide panels to OVERSEAS company from JAPAN

Marketing operation

Online survey
Content marketing survey
Recluting survey

Main Client

Advertising agency, Media, Consulting
Manufacture: Automobiles, Food, Beverage, Cosmetics, Household goods, Drug, Apparel, Consumer electronics, Others
Distribution, Finance, Communication, Restaurant, Leisure, Transportation, Welfare institute, Others

Membership Of Proffessional

Japan Marketing Research Assosination(JMRA)
European Society for Opinion Marketing Research(ESOMAR)
Council of American Survey Reseach Organizations(CASRO)

Affiliated Companies